In Montmartre: Picasso, Matisse and Modernism in Paris, 1900-1910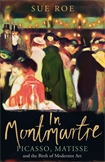 In In Montmartre, Sue Roe vividly brings to life the bohemian world of art in Paris between 1900-1910.
When young Pablo Picasso arrived in Paris in October 1900 he made his way up the hillside of Montmartre . . .
The real revolution in the arts first took place not, as is commonly supposed, in the 1920s to the accompaniment of the Charleston, black jazz and mint juleps but more quietly and intimately, in the shadow of the windmills - artificial and real - and in the cafes and cabarets of Montmartre during the first decade of the century. The cross-fertilization of painting, writing, music and dance produced a panorama of activity characterized by the early works of Picasso, Braque, Matisse, Derain, Vlaminck and Modigliani, the appearance of the Ballet Russe and the salons of Gertrude Stein.
Arresting...admirable...What an eye for art Roe has: she doesn't spin out unduly the descriptions, but you feel the presence of the work...brilliant. (The Guardian)
An elegant synthesis of complex material...it excels: Roe is a skilled and graceful writer. (The Telegraph)
Lively and engaging...in her entertaining, ingeniously structured account Roe brings Montmartre's heyday back to life. (The Sunday Times)
[Roe]skilfully weaves her descriptions of artworks into her romp through the artists' struggles and fractious relationships. (The Times)
A colourful narrative describing the travails and triumphs of an equally colourful cast...Roe describes the detail of daily life in Montmartre with particular skill. (New Statesman)
With evocative imagery Roe sketches out the intensely visual spectacle on which Montmartre's artistic community was able to draw (Financial Times)
Roe's writing is almost equally vivid...This bright, high-pitched chaos catches the spirit of the times (The Observer)
Sue Roe knows every inch of Montmartre then and now...this is a reliable, entertaining guide to [the] period. (The Daily Mail)
Territories:
<div><span style="FONT-FAMILY: Georgia; FONT-SIZE: 8pt"><strong>UK</strong>: Penguin/Figtree</span></div> <div><span style="FONT-FAMILY: Georgia; FONT-SIZE: 8pt"><strong>US</strong>: Ann Godoff/Penguin</span></div>