How I Killed Margaret Thatcher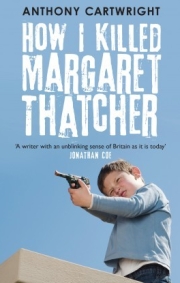 Judas Iscariot's here, look. Here comes Judas Iscariot. Nine-year-old Sean has never seen anything like what happens on the day Margaret Thatcher takes power and his granddad discovers his uncle voted for her. So begins the start of a family secret and the end of Sean's idyllic childhood in the industrial Midlands - until, one day, deciding that someone's got to stop the train of destruction, he sets out for revenge.
A heartbreaking and timely story of a moment of national crisis as felt by one family, How I Killed Margaret Thatcher delivers a devastating English twist on the dictator novel and was shortlisted for the 2013 Gordon Burn Prize.
"A writer with an unblinking sense of Britain as it is today" - Jonathan Coe
"A bittersweet elegy to Britain's battered working classes" - Metro
"An elegiac portrayal of Dudley in the 1980s" - Guardian 
"Cartwright uses the 1980s veil to offer a stinging insight into modern-day politics: often with great humour" - We Love This Book 
Territories:
UK - Tindal St Press