Azadeh Moaveni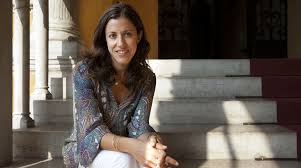 ©
Azadeh Moaveni was born in Palo Alto in 1976. She is an Iranian-American writer and journalist. Moaveni traveled to Iran in 1999 to cover the student riots at the University of Tehran, the worst disturbance the country had experienced since the Iranian Revolution in 1979. She was also once based in Tehran as the Middle East correspondent for Time, covering areas such as Lebanon, Syria, Egypt, Jordan, Qatar, and Iraq. Her work has appeared in several publications including The Guardian, Time and as a leader in The New York Times. In November 2015, Moaveni wrote a front-page piece in The New York Times about female ISIS defectors that was a Pulitzer Prize finalist. Her latest book, Guest House for Young Widows, follows thirteen women who joined, endured, and, in some cases, escaped life in the Islamic State and is published in the UK by Scribe and in the US by Penguin Random House in autumn 2019. It was recently shortlisted for the 2019 Baillie Gifford Prize for Non-Fiction. Azadeh Moaveni is currently a professor in the Journalism Department at the New York University (NYU) based in London.
Twitter: @AzadehMoaveni
Instagram: @amoaveni
Website: www.azadehmoaveni.com
Books in order of publication:
Lipstick Jihad: A Memoir of Growing Up Iranian in America and American in Iran (2005).
Honeymoon in Tehran: Two Years of Love and Danger in Iran (2010).
Guest House for Young Widows: Among the Women of ISIS (2019).